R. SHUNMUGAM PILLAI & SONS
Address:
7, Eduka Mosque Lane, Chellandiamman Koil St, Near Sakthi Theatre, Palani Road,
Dindigul - 624001 ,
Tamil Nadu , India
Phone No:
+918037303849
Mail:
About Us
---
---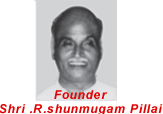 The company was established by Mr. R. Shunmugam, after years of extensive research and hard work. He incepted the firm with exact specifications for a Commercial Roasting Equipment. He developed machines perfect for continuous processing on a commercial scale and ensured that his every single product offers the highest quality output with the least production cost and the lowest process time. He patented his newly invented technological masterpiece. His designs and efforts have been appreciated in the global market lead him to achieve a reputed name in the domain of Roasters. We are reckoned in the market as a reliable Industrial Roaster Manufacturer and Commercial Roasting Equipment Supplier.
---

Today, the company is executing the development tasks with the aid of a pilot plant at the Central Food And Technological Research Institute (CFTRI), Mysore. Andhra Pradesh Foods ( A Govt. of Andhra Pradesh Enterprise) has been using the Shunmugam automatic roaster at Hyderabad to manufacture a variety of weaning food (Energy Food) for school children in the state. The Karnataka State Agra Corn Corporation has installed our Automatic Roasters at various places under the UNICEF scheme to design quality energy food. Ina addition to this, a number of business enterprises in Tamil Nadu has employed the Shunmugam Automatic Roasters for weaning and manufacturing energy food. To meet the diverse needs of the clients, we have been manufacturing our gamut in stainless steel (Grade 304) for export orders to Kenya.
---
Our collection of machines is generally used to parch as well as roast grains, cereals and nuts. Ina addition to this, they find applications in removing the moisture content of the grains as well. Moreover, they are also highly beneficial for preparing the grains for further use like for manufacturing other end product that include crushers, and energy food respectively.